Medical Laser Marking
Due to increasing demands in the medical industry, more and more medical manufacturers are requiring permanent identification marks on their parts for traceability. That's why they choose medical laser marking. Medical laser marking uses high-precision marking to add model numbers, barcodes logos and more onto our customer's o-rings and seals.
What is Apple LaserMark?
Our Apple LaserMark program uses the Samurai UV Laser Marking System to oxidize pigments (as opposed to burning the actual material). This enables us to offer high-quality identification without the use of inks or abrasions.
The process does not involve a physical tool etching the surface of the part, nor does it transmit ink or any other substance onto the surface. Instead, the laser light is focused onto a material, producing damage-free, easy-to-read marks.
Why Medical Laser Marking?
Here are just some of the reasons why the experts choose medical laser marking:
Superior beam quality
Complete visibility
Reduced maintenance
Flexibility
Minimal contamination
Quicker turnaround times
Contact us today to learn how Apple LaserMark can meet your medical laser marking needs.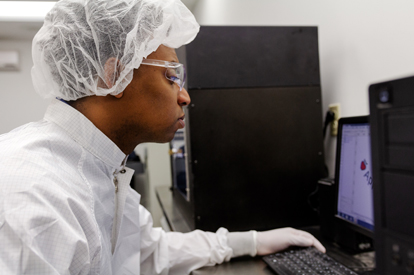 Our goal is to maximize our ability to provide quality products and services that meet or exceed our customers' requirements.
Quality Policy